HTML5 Reader for Electric Zine Maker
A web and mobile friendly way to show off your Electric Zine Maker zines on itch.io.

Features:
Radical 3D page flipping action
Keyboard and mouse/touch input
Web and mobile friendly
Compatible with all EZM templates as of January 2021
Will be updated when new EZM templates are introduced, I promise.
Turn pages with arrow keys or A/D, or click/tap on page edges.
Download EZMreader.zip, drag your EZM save file PNGs into the pages folder, and follow the instructions in the readme.

The older turn.js version is still available for download, but be aware that it's not mobile friendly and does not have keyboard support.
Code available on GitHub under the MIT license.
╔═══━━━─── • ───━━━═══╗
Made with love just for you.
Find me on Twitter.
╚═══━━━─── • ───━━━═══╝

Download
Click download now to get access to the following files:
OLD ezm turnjs.zip
291 kB
Comments
Log in with itch.io to leave a comment.
i use this for all of the zines i make with EZM. i love it! thanks for making it <3

Thanks a lot! People can read my zini https://angela-quidam.itch.io/bayardt and I'm pretty proud to now know how to make documents readable on the navigator.

Is it possible to do the same in a devlog? So I could add another readable version of this zini? (another language)

I'm not sure if itch.io lets you run an html project in a devlog like that. I doubt it. I think the best thing to do would to just create a new page for the other language, and have the two pages link to each other.
thank you for the advice, it's a really small project I didn't want to create 2 pages but I'll do it

everytime i try to upload it it says missing index.html in the zip, what should i do?
are you sure index.html is in the zip? Remember, you need to zip up the entire folder, not just the Pages folder.
Hey! I tried it and all the pages are black, even if I play it on an itch.io test page! Not sure what I am doing wrong :/ Cheers!
Testing with the latest version and everything is working as it should. Maybe you missed a step in the instructions? If there's any part of the instructions that's confusing, please let me know!
I fixed it! Was a problem on my end with the PNG format. After that was fixed everything worked out! Thanks for the quick reply :)
Hey what do you mean with the PNG formating? As I am having this same issue but am struggling to fix it. Thanks!
You need to have each page separate, instead of the big pdf it gives at first! Then it should work.
Must be something else, gonna redo the code must've missed a step!
Thanks for the quick reply!
Hello! I love this concept, but when I downloaded and followed the instructions in the readme, this happened: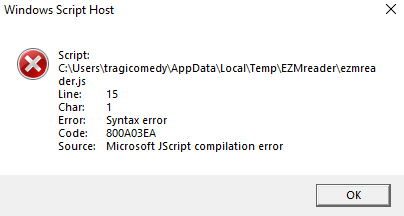 Is this my end, or yours?
Hi, I believe you're trying to open the file in Windows directly. Try opening it with Notepad, that should allow you to edit it. If you have something like a code editor or Notepad++ that would be even better.
Thanks for bringing this to my attention, I'll add a clarification to the instructions
Wow okay thank you - that probably would have been obvious to most others (I have very little experience using js) but I really appreciate the clarification!
Hello, I am new to this stuff and am finding this quite difficult to follow. Is this the only way to get the zine so it can be read/viewed online properly? Not trying to be critical or anything like that, just honestly kinda lost here.
Thanks
Hi, Electric Zine Maker allows you to export as a PDF, which is great for sharing person to person but not as easy to host online etc. I made this so you can just drop in your saved images from EZM and have a nice looking and feeling digital booklet anyone can read. It's not exclusive or anything. Anyone is free to make their own app or website or whatever to show off their zines however they please. If you have any questions, I'll be happy to help.
i copied over my pages without changing the file name and the reader is still blank? i checked the script and the page names match the ones in the ezmreader file but im not sure why they're not showing up
-update- i downloaded the older script and the old one works, but for the new one all the pages seem to be blank
Hi, I tested it on the most recent version of EZM and everything still seems to be working as it should. Are you testing it on your local machine? Modern browsers don't let you load local resources such as images for security reasons. Have you tried uploading the project to an itch.io test page to see if it works there?
Using the older script was also my only way of getting this to work also, if anyone else is having issues.